I have been telling people, since 2001, that they need to own their own self-hosted WordPress custom website:
It needs to be the source of unique in all the world content
Each image, each video, each audio file, every post, page must be optimized for search
This is Internet Real Estate – it has value at very little cost
Each piece of unique in all the world data must be linked back to you
The effect is cumulative, permanent traffic and rankings
Back then, most people just said "Huh?"
Perhaps now that I have a documented, provable audience of over 20 Million whom I have influence with, 15 years later; perhaps now you are ready to listen:
"Digital Ad Sales Will Pass TV Spending Very Soon – some say 2017"
The New York Times reports that a pair of ad agency-owned research firms—Interpublic Group's IPG 0.70% Magna Global and Publicis Groupe's PUB ZenithOptimedia—are both confident that digital media is set to surpass TV on ad spending within only a few years.
Try to get this: you now see Superbowl class advertising and mainstream copyrighted content  all over YouTube and Facebook videos.  Fortune 500 advertisers are all over social and mobile media; so…now do you get it?!
 Let me break this down "Barney style" for you: new media is manufactured by the users, filtered by the users, owned by the users, and influenced by the users.  These can be done on purpose by what is now called "Influence" and "Content Marketing" or "Social Media Marketing"
You once got your water filter from a door to door salesperson.  Now you can buy two with a pitcher at Walmart for about $13.00.  So it is with new media – the dumbed-down, hard pitch methods of what I like to call "Push Media", in other words media that is controlled by the media, by distribution or by big money, is shrinking.  User-based media is exploding in a parabolic curve.   According to this amazing 2016 article from smartinsights.com:

Annual growth continues apace, particularly in the number of mobile social users, which hit 17% last year.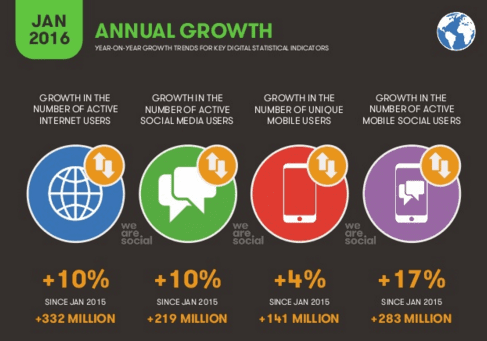 Asia-Pacific is driving much of this growth, which internet usage rates high and number of active social media users increasing 14% on the year before.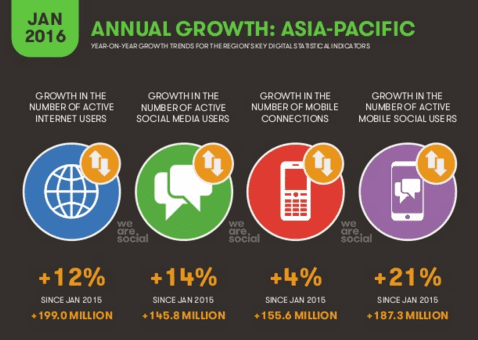 When looking at the world by number of internet users, it really rams home the importance of East Asian and South Asian markets. Digital offers new opportunities to reach these people, although as always cultural differences are considerable challenges to international marketers.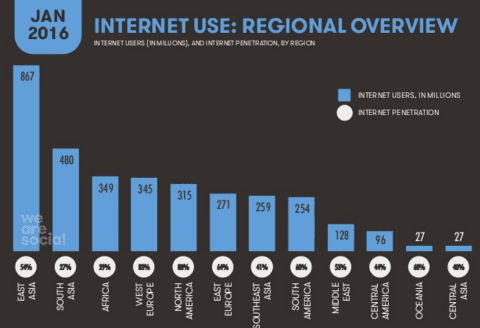 October 2015 update – US Social media adoption..
US consumer technology adoption specialists Pew Research Center released a new set of data on US Social Media US on October 8th which shows the latest social media trends and how far it has permeated society. Looking at data from the past 10 years, it charts the meteoric rise of social media.
10 years ago on 7% of the US population used one or more social networking sites. Now that figure has increased almost tenfold, to 65%. Of those who use the internet a massive majority of 76% of American's use social media.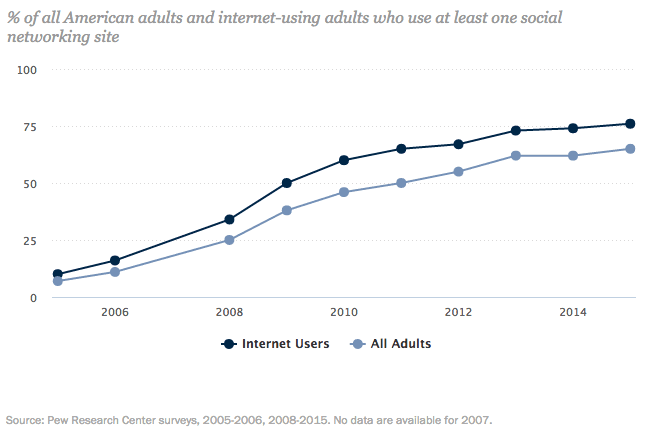 Social Media has grown massively, but it's growth is now starting to plateau. Interestingly the over 65s segment are now driving growth, as other age groups have plateaued completely and use is hardly growing it all. Among the 50-63 age cohort, use hasn't increased since 2013.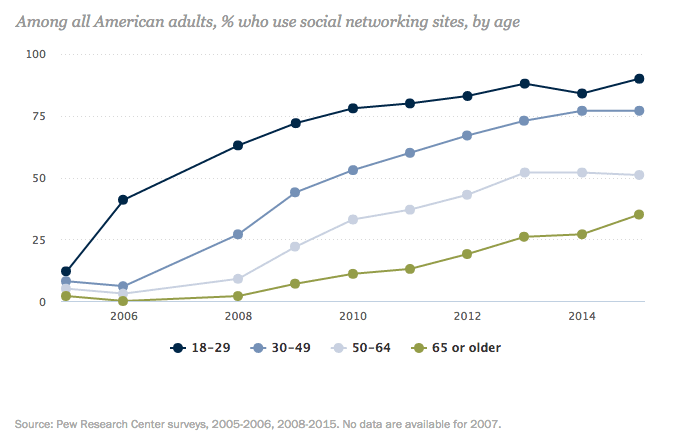 The most popular social networks worldwide in 2015?
Here is the latest Global Web Index summary in January 2015 (the most recently published) showing social network account ownership and active usage. It's useful to have both since it's the active social media use statistic which really shows the potential of a platform. Although Facebook is no longer growing at the rate it was based on the previous chart, its clearly the number one.
The popularity of Facebook, Twitter and Instagram are expected. You can see that Facebook is most popular in terms of active use – other charts in the report show it scores well in terms of frequency.
Social network popularity by country
This is a great visualisation of the popularity of social networks based on the interviews in the GWI report. If you pick out your country it's probably way behind the countries in which these four core social networks are most popular. Indonesia, Philippines, Mexico, India and Brazil are in the top 10 for each with significantly higher levels of use than the US, UK and European countries.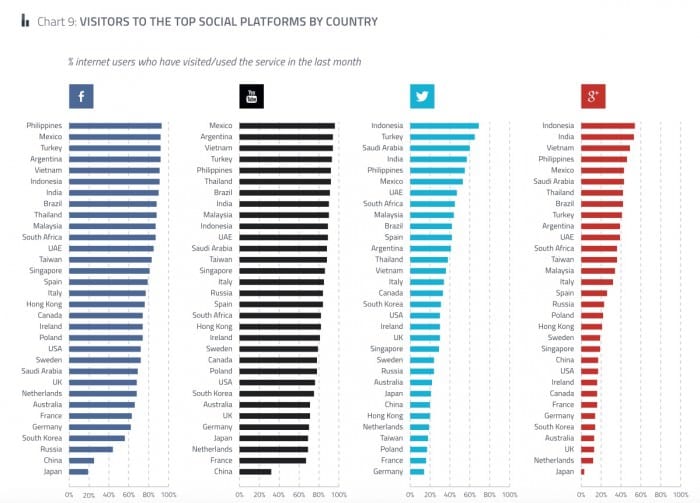 The fastest growing social networks?
Which are the fast growing networks? Well, through 2014 Pinterest, Tumblr, Instagram and LinkedIn had the biggest growth, so we can expect this has continued into 2015. So, if you're not actively using these networks for marketing, this could be a missed opportunity. This chart doesn't show Reddit, which is another network that is growing rapidly.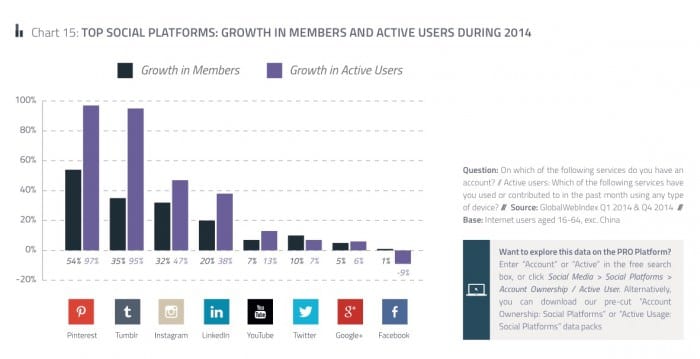 Ok so what does all of this mean in 2016?
I want you to remember this term: 2016 INFLUENCE MARKETING
As the market evolves around this upside down model a shifting of power occurs
Power transfers from the media itself, to the audience
Spam and noise and popups that are tasteless will wain
Censorship has already ceased to exist
Power will be transferred to the people holding media and government accountable
This huge shifting of money, influence, and power has only begun.
Now here is my advice going forward:
Choose a topic that you have a knowledge of and passion for
Have self-hosted WordPress on a dedicated server
Become the media for your topic by being yourself online
Sell whatever you are selling in the sidebar, at the bottom, whatever
The following are real examples of how to get ahead of the curve and even dominate a marketplace in 2016 on a tiny budget and/or sweat equity (real content):
"I am not a computer nerd or geek; in fact, when it comes to the new technologies, I am rather remedial. 
But I do know that I was never the type to go to cocktail parties to try to drum up new business. Israel 
has managed, in spite of my being a remedial techie, to give my business a boost through his efforts and 
natural talents. The increase in my business has been remarkable. He has given me the ability to reach 
out to people throughout the country and interest them in my services without my having to leave my 
office. For that I am extremely grateful.

Mr. Rothman:  It is a week late but here it is. I mean every word of it. Linda"
For Finance Brokers:
.
For Realtors
There are so many ways to promote a real estate related business, and they all cost way too much, except for our system:
Client Owned Real Estate Sites Fed
A modern advertiser-owned enterprise level Real Estate Broker site can be fed by blogs:
Tri-Cities Eastern Washington Area Guides
Niche Topic Blogs Launch Building Audience – seeking authors:
We can feed a niche audience to a business by building is from scratch – then blasting out to our audience as we are doing here:
Our print experts are in hill country in Texas – where we have a huge presence – learn more ….The creator of Hill Country Home Life Magazine can design custom print for your campaign – and an Uplog.org SEO blog is included at no charge
Are you considering a lifestyle change?
In this episode of The Secured Entrepreneur Show you will learn how you can quickly be on your way to raising all of the capital you need to get your ventures started.
You can go into business right now!
It is important for entrepreneurs to be educated about the business entity that they choose to operate.  Aurorah Dey Consulting University ("ADC University") online courses provide the necessary information that every entrepreneur needs to know before forming …
Israel Rothman is the number one 'internet advertising consultant' according to Google organic search, and Uplog.org is also the number one 'local news advertising agency' .  Times are changing, and there is almost nothing that we cannot achieve on purpose, without breaking any search engine rules: as a team producing real content. Our newsletter is the number 1 B2B Home Business. We have the power, the numbers, the rankings, the momentum, and the know-how.
Why buy from anyone else? 541-982-9291